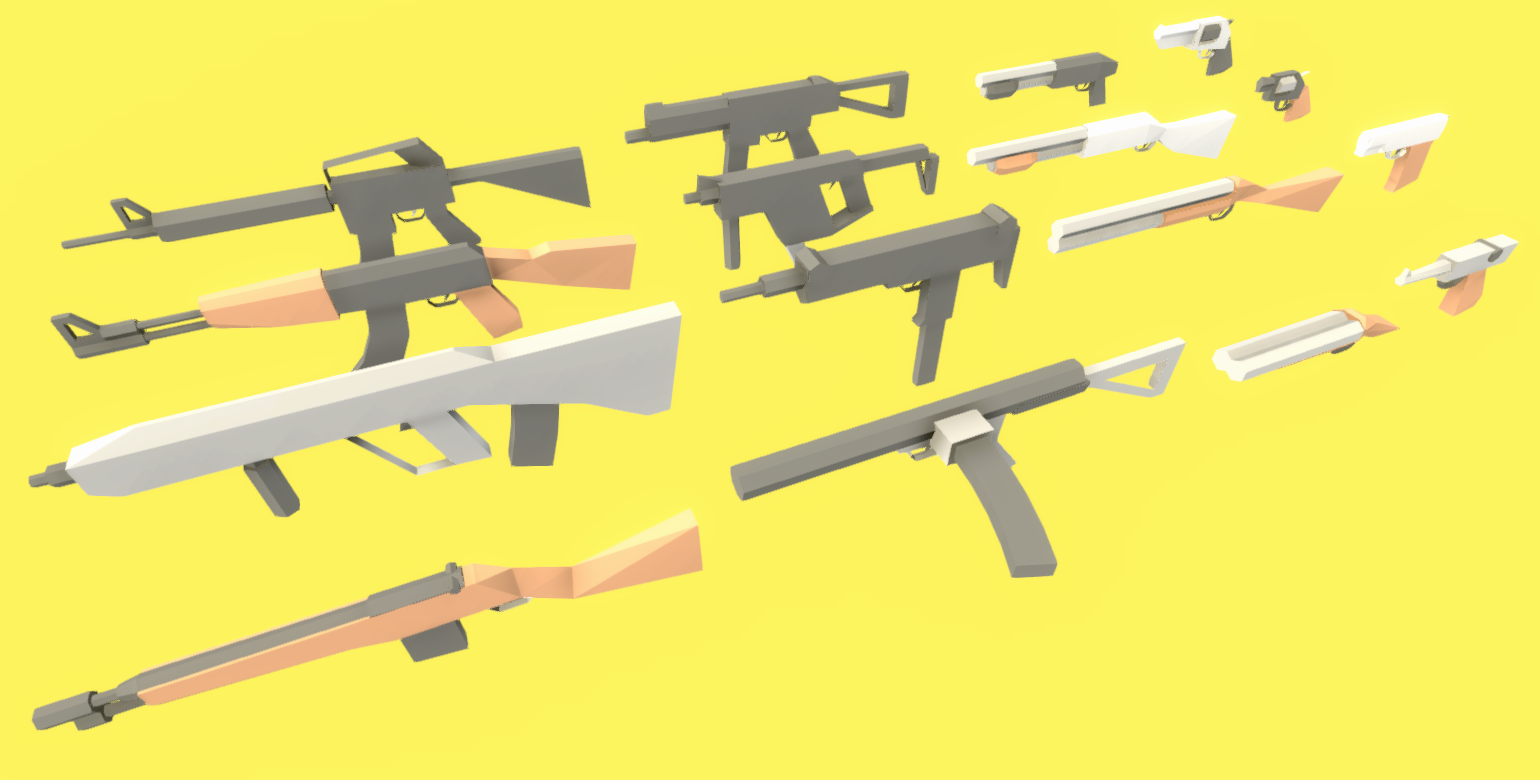 Low Poly Gun Models
A downloadable asset pack
A selection of low-poly firearms. Originally made in Sketchup, and cleaned in Blender. Triangle count is low across the board, the highest being the AK ringing in at a luxurious 270 triangles. All the parts you'd expect (slides, triggers, cylinders, pumps, magazines, etc) are all separate models for the purposes of animation, ready for use as untextured meshes, configured for Y+ = up, Z+ = forward (Unity compatible out-of-the-box). There's four of each type of weapon from a range of time periods.
Pistols
• Luger
• Detective Revolver
• 1911
• Handcannon
Shotguns
• Sawn-off
• Hunting Shotgun
• Stubby Pump
• Stock Pump

Submachine Guns
• Sterling
• UZI
• Vektor
• UMP

Assault Rifles
• Semi-Auto Rifle
• AUG
• AK
• M4
These assets are provided for free (although donations are appreciated!), are licensed under the CC0 1.0 Universal license, requiring no attribution - although if you use them in anything, I'd love to hear about it. Leave a message on the discussion board if so, or if you have any problems or requests :) If you want to see these models textured, check out this post here

Download
Click download now to get access to the following files:
Comments
Log in with itch.io to leave a comment.
Thank You Will Be Using this for my Godot
fps game
Very good retro models! I will use them and add a few textures to the ones i can.
Thankyou! The models are put together with texturing in mind, so I hope that works out - check out this post for my attempt at texturing the Python, if you haven't already :)