0.40 represents a small step really, but hopefully quite a useful one. Until now, documentation on implementing the Toolkit has been poor. In an effort to help fix this, each upload will be accompanied with a 'barebones' capx. This includes all the objects and functions of the toolkit, minus the bloat of the sandbox environment.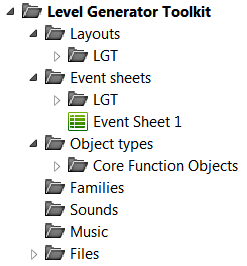 All neat and tucked away
Included is a new event sheet and layout just like you'd expect from any Construct 2 project, with a sample event to show you how to quickly implement scripts you've written for the Toolkit. Don't forget there's also the 'Examples' group in the Core Functions Event Sheet with more complex instructions on building libraries of toolkit output in various different formats.

So you know it works, the example Layout includes a Tilemap, which should render some random shapes using the test script. Don't forget, if you want any help using the Toolkit, you can get in touch using the community here on ITCH, on Twitter, or directly via email alex[dot]jordan[dot]cook[at]gmail[dot]com
Files
0_40_BAREBONES.capx
269 kB
May 02, 2018
Get Level Generator Toolkit